How to Build (or Re-build) a Flourishing Integrative Healthcare Practice
in the Midst of a Pandemic
November 13 - 15, 2020.
Live and In Person at Maris Stella Retreat Center, Harvey Cedars, NJ.

Number of attendees limited.
Call CJ Rhoads at 610-468-5039
prior to November 1, 2020 for more information or to register.
Does your practice consist of Tai Chi, Pilates, Qigong, Meditation, Holistic Health, Yoga, Reiki, Wellness, Acupuncture, Nutrition, Naturopathy, Fitness, Healing Touch, Therapy, or any other Integrative Health Practice? This workshop will...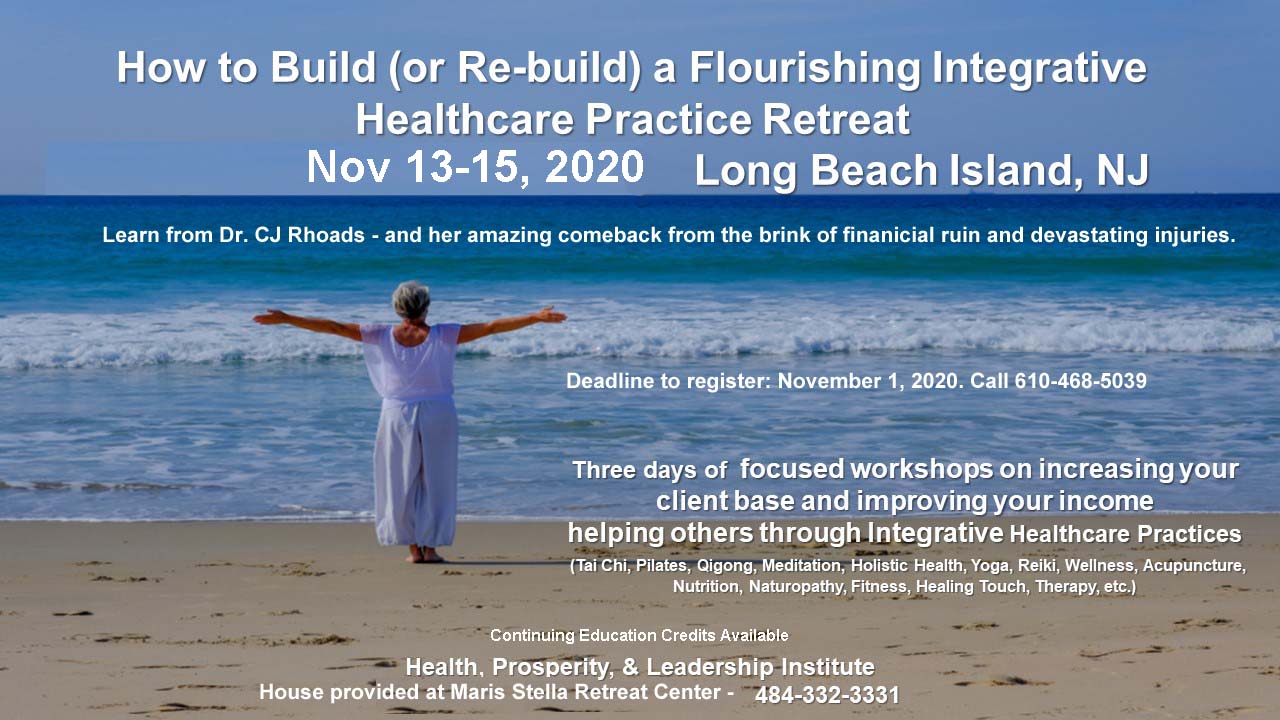 Teach you how to help more people
Increase your compensation
Avoid pulling teeth to get new clients
Deal effectively with COVID-19 challenges
Transition from free to fee classes/sessions
Use technology to your advantage
Learn the secret sauce from failure to success
The COVID-19 pandemic has caused havoc with people and their businesses all over the world.  Economies are in shambles. Government bailouts can only go so far.  As we all struggle to get back to some semblance of normalcy, we have to find ways to get back to prosperity.
As you move forward, have you asked yourself these questions?...
How do I get patients/clients/students to come back?

How do I keep my patients/clients/students safe? How do I keep myself safe?

Where do I find new patients/clients/students? How can I expand my practice?

How can I keep my business financially rewarding enough to continue to help people?

How do I convince people of the benefits of Integrative Health Practices – especially now?

How to I take advantage of social media and technology?

 

Am I spending too much?

 

Am I not spending enough?

 

How do I know?

How do I ensure people trust my methods and my judgment?
If you are you trying to develop or run an alternative healthcare business such as Tai Chi, Qigong, Acupuncture, Naturopathy, Holistic Health, Wellness, Nutrition, Yoga, Reiki, Massage Therapy, Pilates, Fitness Centers, Behavioral Therapy or any one of dozens of other alternative or integrative healthcare practices, no one has to tell you the challenges.  They are abundantly clear.   This weekend retreat is designed to introduce you to techniques that will optimize your practice – and help you make a plan to come back from the pandemic stronger than ever before.  Dr. CJ Rhoads will share the secrets of success for a consistent, strong client stream so that you can keep your business going and help more and more people.  Dr. Rhoads will teach you the basics of technology needed in order to take advantage of completely new channels of marketing and operation. 
When so many integrative healthcare practices are closing - make sure yours isn't one of them! You will come away from this retreat weekend with practical relevant ideas for increasing your client base and decreasing your stress. Listen to what some people say about CJ Rhoads' workshops:
<![if !supportLists]>§ <![endif]>Thank you for giving a presentation yesterday afternoon. I am very impressed with your achievement and truly admire you for playing so many roles and being so successful. Again thanks for this wonderful speech full of wisdom and inspiration! Qin Geng
<![if !supportLists]>§ <![endif]>Thanks for some great, very practical procedures. They make my life easier. John McAndrew
<![if !supportLists]>§ <![endif]>The interest in CJ's presentation was so high, in fact, that we plan to change the format of the event next year to provide a keynote opportunity for CJ at another major part of the event. Mike McCarthy
<![if !supportLists]>§ <![endif]>CJ is one amazing woman.  Wow!  CJ, you should give lessons in getting things done.  Wait a minute….  I guess you actually do that for a living!    CJ, I am amazed by how much you accomplish even while you're "relaxing". Reuel Launey
<![if !supportLists]>§ <![endif]>Your work is very valuable to so many. Thanks for doing what you do. Annarose Ingarra-Milch
<![if !supportLists]>§ <![endif]>You are not only helpful, but awe inspiring. I wish I knew what you've forgotten.  Thank you for remembering. David Farrington
<![if !supportLists]>§ <![endif]>I've already sent glowing praise about your work to my boss and friends,  I think your students must really love your class and your elegant metaphors. They are stunningly perfect. Donald Leung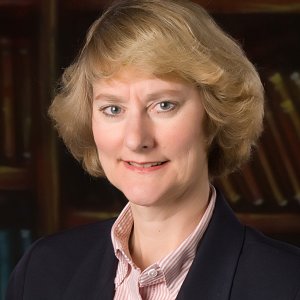 About CJ Rhoads
Dr. Christine Judith Rhoads ("CJ") is one of those people who make you breathless just listening to her accomplishments.  A sought after speaker, consultant, author, and expert in many different aspects of business, she has been recognized by her community with several awards and honors including the Athena Leadership award, one of Pennsylvania's Top Women in Business and Lehigh Valley's Most Influential Women, Kutztown University's College of Business Top Researcher of the Year.  
Currently she is President and CEO for HPL Consortium, Inc., which develops technology tools to help people connect toward Health, Prosperity, and Leadership.  She is also the managing director of Health, Prosperity, and Leadership Institute, which provides those tools to small groups and non‑profits at a reduced fee so that they can help their constituents achieve health, attain prosperity, and develop leadership.  Rhoads is also a Professor in the College of Business at Kutztown University, where she teaches graduate and undergraduate courses in entrepreneurship, leadership, health services administration, project management and information technology. 
Her research in leadership and strategy is well-known for its practical usefulness, and her research in healthcare and the use of integrative health to lower costs and increase quality is being noticed by decision makers.  Many of her books have been popular, including Telehealth in Rural Hospitals: Lessons Learned from Pennsylvania, and The Entrepreneur's Guide to Running a Business: Strategy and Leadership.  More than a three hundred of her articles have been published over the past fifteen years, many reprinted and translated into several different languages.
Rhoads started her career by building Computer Educational Services, a highly successful computer training and consulting firm which she profitably sold to Hi-Tech Connections, Inc., and which eventually merged into Verso Technologies, a publicly traded company. 
Rhoads developed her extensive foundation of knowledge through a combination of technology startups and Fortune 500 companies in the financial industry.  Prior to starting her current company, she served as Chief Technology and Operations Officer for CommerceLinks.Net, a startup specializing in Live Video Customer Service technologies where she designed and wrote a patent for the video interface for the technology.  During the height of the Internet bubble she utilized her talents as Chief Technology Officer of Millstar, an E‑commerce software development company specializing in on-line catalogs of highly complex product sets for click and mortar companies.  Her large company experience was garnered previously as Vice President of First USA/Bank One and MBNA/Bank of America where she provided internal consulting to senior management on strategic decision making, project management, and resource allocation. 
It has not been all roses. Almost twenty years ago, Rhoads was injured in a devastating car accident that left her with permanent memory problems from a mild traumatic brain injury and severe chronic back pain. She also is in a constant battle for her health due to several auto-immune disorders.   She has recovered from the financial hardships and physical disabilities as a result of the accident. She has succeeded in living a healthy productive life despite her health problems and setbacks. But she's done more than that. She has absolutely flourished. She has surpassed all expectations in terms of gaining health and prosperity within the last twenty years.  In 2012 her experiences led her to an epiphany; she didn't want to help multi-millionaires make even more millions in business anymore. She wanted to help people like her, people who are on the verge of losing everything. This led to the change in focus of her career and lifestyle. Her entire life is now dedicated to helping others achieve the same gains regardless of their circumstances.

About Maris Stella
Maris Stella Retreat and Conference Center is a retreat center nestled between the ocean and the bay in Harvey Cedars, Long Beach Island, New Jersey. "Holy Family" is the building on the bay side in which we will be staying.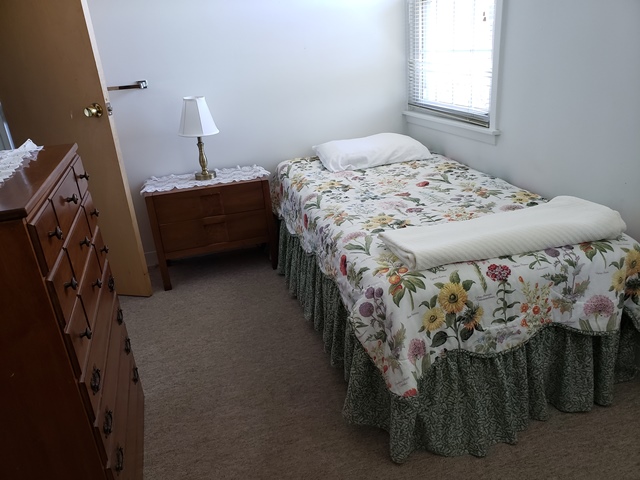 Its rooms are comfortable but shared. Each person would get their own bed with a chair and a chest of drawers, but there will be between 2 and 5 people in each bedroom. (Bathrooms and showers are also shared, co-ed.) You must bring your own sheets, pillow cases, and towels,
Meals will be on your own. You can bring your own food (there is a full kitchen) or plan to eat out. (Warning, there are not many open restaurants on the island in the winter.)
If you are concerned about COVID-19, you might want to consider some things. In May, CJ was hired by the Pennsylvania Small Business Development Center to develop a series of educational modules for businesses re-opening safely during the pandemic (you can see them here ). She is an expert. And this weekend, effective protocols to ensure that EVERYONE will remain safe and Coronavirus free will be strictly and rigorously enforced. Because of her auto-immune disorders, the risk to CJ herself if COVID-19 should rear its ugly head would be very severe. So why take the chance? Well, firstly, it's not taking much of a chance with these protocols. (And if you are unwilling to abide by the rules such as wearing a mask when appropriate and wiping off items that you have touched and washing your hands frequently, please wait for the next time this topic is offered.) It is important to cover these topics by going off to another place, not being surrounded by the same-old-same-old, that can spur your thinking and inspire new behaviors.
Pricing
(A personal note from CJ) Before we get to the pricing, I'd like to tell you a story. At the lowest of the low point after moving back to Berks County, I had lost my only client (because of 9/11) and I wasn't making enough money to pay any of the bills. I feared that I would have to give up on my newest (fourth) entrepreneurial endeavor because I couldn't seem to get anyone to pay attention to my proposals. I went to a successful friend of mine to ask for advice. He asked me; "How do you find pain?" I didn't know what he was talking about and told him so. He said "That's your problem. Find someone who can show you how to find pain." I did. I found a sales training consultant named Dave Bosler who started me on the road to prosperity. The problem was Dave Bosler's training was ultra expensive, and I didn't have enough cash to pay him even the first installment on his monthly fees. I wanted to start with him when I confessed that I didn't have enough in the bank to even pay the first month's fees, and I was hesitant to commit without an income stream. He asked me if I had credit, which I did, and he let me put his fees on a credit card instead of writing a check (which he didn't normally do). He told me not to worry - once I began I would not have a problem.
Within one month, I had used what he taught me to double my income. Within two months I tripled it. Within three months I had quadrupled my income. I went from having not even enough money to pay him for one month of his services to being able to charge over six thousand dollars a week for my services to others. And that was long before I truly understood all the lessons that he was teaching me (which took minutes to describe but years to master).
The point is that price is relative. His fees, over $7000, were dwarfed by the amount of money I was able to make because I finally understood how to find, and soothe, pain. (And that wasn't even physical pain - that was emotional and financial pain!)
So when I tell you the price for this weekend, and your immediate response is to declare that it is too much and that you can't afford it, please remember that the fees I'm asking you to pay will be a fraction of the increase in your income if you can master the skills I'm about to share with you.
So are you ready for the price? And you promise you won't faint? If so, click here.