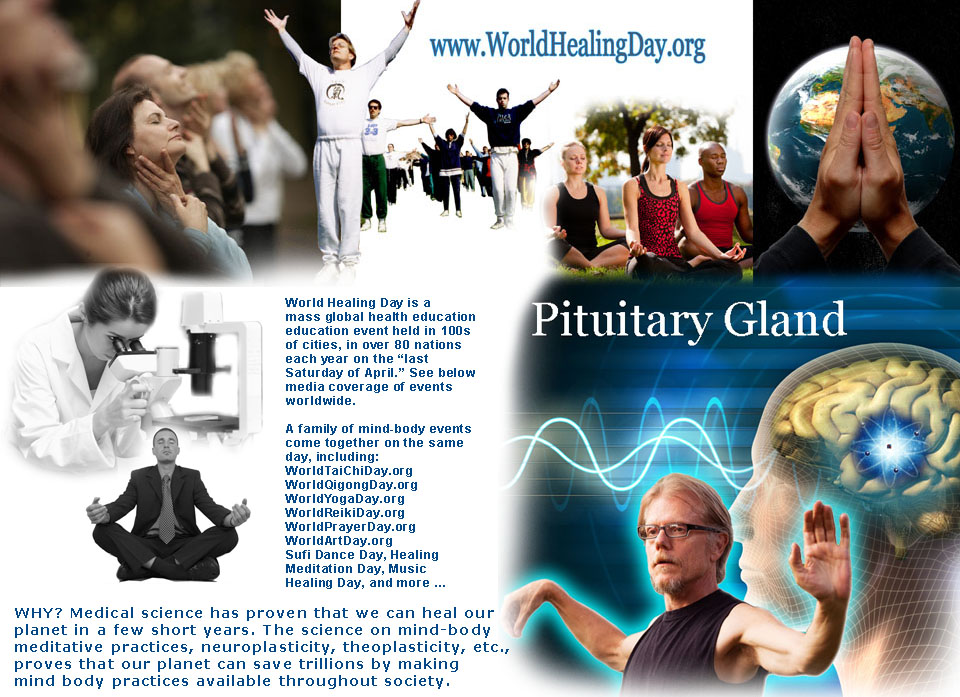 Sign up for our FREE email Newsletter EZINEs, that not only connect the global mind-body community and organize World Healing Day events each year,
but are full of fascinating articles on mind-body science, medical research, philosophy, free tutorials to help you get the most out of your mind-body practice,
and tips for teachers to help inform the public about their classes to improve health globally ... working for a calmer, clearer, healthier planet ... together.

Why mind-body practices should be part of public education worldwide ...
Scientific research is proving that mind-body practices can cut global healthcare expenditures by trillions of dollars as "stress" has been found to
be at the core of the majority of illnesses in the modern world (between 60% to 90%). Beyond that stunning fact, neuroplasticity research is
also finding that mind-body practices could address social ills including, violence/bullying, crime, and even help with economic and environmental
challenges, as science shows how mind-body practices can enable people to become more intelligent, creative, and adaptable. In a world
changing as rapidly as today, these skills are a must. The cost of making mind-body practices part of public education worldwide is miniscule
compared to the massive societal cost savings scientific research has proven mind-body practices will provide when taught on a massive scale.
This is why on the "last Saturday of April" each year, massive mind-body educational and participatory events and exhibitions are held worldwide,
as mind-body practices join together on this one day each year under the umbrella of World Healing Day. Participating events include:
WorldTaiChiDay.org
WorldQigongDay.org
WorldYogaDay.org
WorldArtDay.org
WorldReikiDay.org
WorldPrayerDay.org
and Healing Meditation Day, Music Healing Day, Sufi Dance Day, etc.
All are invited to attend existing events, or to organize one of your own. You can "Join Our Free Email Mailing List" at the event's
founding site, www.WorldTaiChiDay.org and also find resources to educate yourself about mind-body research, or to find
free resources to help you organize a World Healing Day event in your community.
See below videos and TV news coverage of past events from all over the world:
Montage of World Healing Day events worldwide



Media Coverage of World Healing Day events worldwide


City, State, and National Govt. bodies Officially Proclaim
events in many nations!









Jerusalem, Israel's World Tai Chi & Qg Day
Spectacular International News Coverage!









Associated Press and Television,
BBC News cover events across
Latin America!







Harvard Researchers Mark
World Tai Chi & Qigong Day
"Celebrating World Tai Chi Day"!







Agence France Presse TV News:
World Tai Chi & Qg Day
in Havana, Cuba!







Uruguayan TV News:
World Tai Chi & Qg Day
in Uruguay, South America!







Antwerp, Belgium WTCQD Stuns
Commuters with Wave of Peace!







Indonesia's 1ST World Tai Chi & Qg Day
Event - Massive!







Porto, Portugal's 1ST World Tai Chi
& Qg Day Event - Massive!







Tunisia's 1ST World Tai Chi & Qg Day
Event - See Beautiful Video!









Harlem, New York City USA's World Tai Chi & Qg Day
BEAUTIFUL Event!









CCTV China Global News Network
Covers the worldwide wave of events from their South African Bureau correspondant! BEAUTIFUL FEATURE!







Tehran, Iran's World Tai Chi & Qigong Day - Gorgeous video










Egyptian National TV News covers World Tai Chi & Qigong Day










ITALIAN TELEVISION NEWS covers: Vicenza, Italy (Italia)'s World Tai Chi & Qigong Day
Beautiful Video!







San Juan, Puerto Rico's World Tai Chi & Qigong Day Massive Event!







Brazil's National TV News covers World Tai Chi & Qigong Day









Sicily, Europe's World Tai Chi & Qigong Day event
-- BEAUTIFUL VIDEO ... GORGEOUS EVENT!







Hong Kong's World Tai Chi & Qigong Day is MASSIVE! Beautiful!









Auckland, New Zealand's World Tai Chi & Qigong Day is MASSIVE!







Los Angeles, California USA's World Tai Chi & Qigong Day
Covered by Television News!







Tokyo, Japan's World Tai Chi & Qigong Day
Beautiful Video!










Brasilia, Brazil's World Tai Chi & Qigong Day event makes NATIONAL NEWS IN BRAZIL ... a great example of how you can partner with media to educate the public. BEAUTIFUL!!  (VIDEO HAS ENGLISH SUB-TITLES, voice is in Portuguese)







ENSENADA, BAJA, MEXICO
World Tai Chi & Qigong Day










Check out, and share this STUNNING VIDEO from Macedonia's WTCQD 2017 ...







TAIWAN HOLDS "VERY FIRST"
World Tai Chi & Qigong Day event in 2017 ...







Celebrating World Tai Chi Day with a ROAR (Rizhao, China 2017)