CJ Rhoads, D.Ed., M.Ed., Curriculum Vita
Full List of Publications
--
Full List of Speaking Events & Presentations
--
Download full 25 page vita in PDF
EDUCATION:
                        LEHIGH UNIVERSITY, Bethlehem, PA                       1990
Ed.D.  in Educational Technology                         Minor: Business Administration
GPA: 3.96                   Dissertation Topic: An Expert System of Effective Schools
TEMPLE UNIVERSITY, Philadelphia, PA                    1985
M.S. degree in Educational Psychology                Field of Interest: Instructional Design
GPA: 4.0
KUTZTOWN UNIVERSITY, Kutztown, PA                  1982
B. S. Elementary Education/Special Education   Double Major
Graduated Magna Cum Laude
HONORS AND AWARDS:
Named Top Faculty Researcher of the Year in 2014 by the Scholarly Activity Committee of the College of Business at Kutztown University. Awarded not only for the quality and quantify of research publications, but the practical usefulness of frameworks and ideas.
Lehigh Valley's 2013 Women of Influence award winner. The Lehigh Valley Business Women of Influence awards program honors the Greater Lehigh Valley's most dynamic women in business who have been making headlines in their field, and who have demonstrated leadership in giving back to the community.
Awarded the Athena Leadership Award in 2011 by Greater Reading Area Chamber of Commerce and honored at a dinner on May 3, 2011.The ATHENA Leadership Award® is presented to a person for professional excellence, community service and for actively assisting women in their attainment of professional excellence and leadership skills.
Named one of Pennsylvania's Best 50 Women in Business by Governor Ed Rendell and the Department of Community and Economic Development in April 2009, and honored at a reception and awards ceremony in Harrisburg on May 11, 2009.
Given the John P. Schellenberg Award for Excellence in Teaching and Learning on December 4, 2008 by the Center for Advancement of Teaching at Kutztown University, and given the Top Faculty Researcher of the Year award by the College of Business at Kutztown University in 2013.
One of top three among the eight finalists out of all the nominations for the Technology Educator of the Year, an annual award of          TechQuest of Pennsylvania, a program of the Technology Council of Central Pennsylvania given on February 12, 2010 in Harrisburg, PA.
Inducted into the United Fellowship of Martial Artists Hall of Fame as Martial Arts Promoter of the Year by the United Fellowship of Martial Artists in Philadelphia, PA on March 6, 2010.
Won First Place Gold medal and National Championship in Women's Push Hands Division at International Chinese Martial Art Championship in Washington DC on October 9, 2009.   Also won various Bronze and Gold medals in open hands and weapon forms divisions.
Named the Consultant of the Month for January 2005 by the Society of Advancement of Consulting (SAC), an international community of consulting colleagues founded by Alan Weiss, PhD.  Dr. Weiss explained the reasoning behind the choice: "CJ Rhoads was named January 2005's Consultant of the month by SAC due to the excellence of her work and the credentials she brings with her. It's a pleasure to have her among the ranks of some of the most elite consultants in the world."
At MBNA, in recognition of teamwork and leadership efforts, nominated by peers and subordinates and received the Financial Excellence Award for the First Quarter of 1998.
At Hi-TECH Connections, in recognition of leadership efforts, received the President's Mile High Award for Excellence for the First Quarter of 1994. 
Board of Directors Experience
CTCE Federal Credit Union, serve as Vice Chair  of the board of directors for an $80 million dollar credit union.  Responsible for effective strategic planning as well as operational oversight including audit committee, nominating committee, and governance committee.  2010 - 2013.
HPL Consortium, Inc. (formerly known as ETM Associates, Inc.)  Serve as CEO of company and Chairman of the Board. Fully responsible for all facets. 2001 - present.
HPL 501c3 Institute (formerly Pacem In Vita Institute/Taijiquan Enthusiasts Organization). Board member and founder. Fully responsible for all facets.  Pioneered three main programs. 1) Healthy Lifestyles for Seniors, an exercise and Qigong program brought to senior centers, assisted living centers, nursing homes, rehabilitation hospitals, etc.  2) Making a Better Future program, including the Entrepreneurially Talented Teen project which helps youth develop character and discipline to become productive prosperous citizens.  3) Taijiquan Enthusiasts Events, which include the Taijiquan Retreat and Enthusiasts Event in the summer, the Tai Chi Picnic and Festival in the fall, and the Chinese New Year dinner in the winter.  2001 - present.
Association of Computer Technology Professionals.   Previously known as DPMA (Data Processing Management Association).  Member of local chapter since 1987.  Served on Executive Committee of Board of Directors in 1991-1992, and then again from 2001 - 2003.
Pacem In Terris (a non-profit organization dedicated to Peace on Earth).  Board Member and chair of Technology Committee. 1998 - 2006.  Responsible for Strategic Planning and Audit.
Project REACH– served on the board of a community organization that meets the needs of disabled college students. 1994 - 1996.
Academic Experience:
Kutztown University: 2004 – present.  Tenured Associate Professor in the College of Business. Leader within the department.  Outstanding teaching, scholarship, and service credentials.  Served on the Faculty Senate Executive Committee (as Secretary of the Senate);  MBA Committee; University Academic Technology Committee; Chair of the College of Business Academic Technology Committee; Department Promotion, Evaluation, and Tenure Committee; Academic Standards Committee; and many more.
Albright College. 1987-1991, 2001 -2002 and 2012 to 2013.  Instructor for various Accelerated Degree courses including Business, Government, and Society for the business department and  Hardware and Software, Advanced Database Concepts, Systems Analysis and Design for the Information Technology department.  In prior years, taught Continuing Education courses on a variety of applications.
Lehigh University. 1986-1990, and 2003-4.  Taught in the Iococca Institute's Global Village Program on Technology Leadership: How to Make The Right Decisions At The Right Time.   During work on my doctorate, (Expert Systems for Effective Schools) consulted for a variety of projects including, Artificial Intelligence and robotics, CD-I applications, Instructional Design, Expert Systems used in System Configuration, LISP, PROLOG, and SMALLTALK programming,  Completed several projects on instructional design in CBT. 
Lebanon Valley College. 1993-1994. Adjunct instructor for Entrepreneurship (MBA program), Microcomputers in Business (Management program) and various continuing education seminars on computer applications in business.
Drexel University. 2000- 2002.  Instrumental in development of Strategic Internet Management Certification program.  Taught the following courses: Getting IT:  Understanding Information Technology, Databases:  Design and Applications, Essentials of Network Technology, Project Management for Information Technology.
Penn State University (1995) in partnership with T. Max Devlin in Enterprise Network Management.
Bay Networks (now Nortel Networks) Certification (1994-1995) to teach a variety of technical courses including Networking Basics, Token Ring, Ethernet, Optivity Network Management, and Managing Your Network with OpenView.
Alvernia College. 1991- 1992.  Adjunct instructor for Microcomputers in Business.
Reading Area Community College. 1985-1990.  Adjunct instructor for Artificial Intelligence and Robotics, a special program for gifted students.  Also: instructor for various microcomputer courses.
EMPLOYMENT EXPERIENCE
HPL Consortium, Inc.                                                            7/01– Present
Founder, President, & CEO
HPL Consortium, Inc. is dedicated to helping people and groups connect toward health, prosperity, and leadership, anytime, anywhere.  HPL provides a technology infrastructure and consulting service for people and organizations to effectively market, publish books and videos, manage workshops and conferences - any service that helps those with talents and skills find those who need their help.
HPL Consortium, Inc. started life as ETM Associates, Inc. a boutique consulting firm specializing in difficult-to-overcome enterprise, technology, and management problems. The small group of international consultants (all former senior executives in their fields) specialized in turning around companies in trouble, especially during recessionary times.  As primary consultant and CEO, Rhoads established the following talents and skills:
· Strategic vision, able to provide insight on root causes and execute action steps to improve any situation.
· Proven track record of business strategy and leadership advice that resulted in income increases and expense decreases adding up to millions of dollars. One project took a company from monthly $4000 loss to a $50,000 a month profit within one year.
· Excellent at diagnosing leadership team issues, increasing productivity and quality of work environment.  One project resulted in coaching a senior manager and turning around his ability to work with the rest of the leadership team.
· Talent for dealing with government regulatory requirements, especially dealing with those related to financial institution, board of directors, and senior management related rules (OTS, OCC, SOX). One project resulted in establishing processes that turned around the application security practices of a large regional bank after regulatory agencies had threatened to fine the board of directors.
· Able to inspire collaboration efforts among disparate groups.  One project united the CIOs of 40 subsidiary companies of the largest electrical and mechanical construction and facilities services provider in the world.  Standards and procurement procedures agreed upon saved millions for the company.
A selection of the testimonials that clients of ETM Associates/HPL Consortium, Inc. over the years:
Because of CJ, we're having an excellent year.  Revenue will be $1.1 million more than last year.  Profit should be about $550,000 -double the profit of our best year ever - compared to a loss of $50,000 last year. I've grown as a leader. I'm calmer, less excitable about stuff.  I have a better handle on how to pick the right people.  .....Andy Klee
Chris's ability to assess an employee and his working methods/ability caused the company to reassess its view of his value to the organization, and to adopt a fresh approach in working with him. Not having to replace this senior employee presented significant quantifiable savings - at least five times the fees. ....Lee Baker, CIO & COO of Drug Plastics & Glass Company, Inc.
We appreciate your efforts in working to keep our organization the splendid organization it is.  People like you are what makes life more meaningful.  Thanks for being there. ....Vivian Warren, UUFN
Chris Rhoads is a pioneer in many facets of technology. She has lived many interesting careers - centering around the human side if technology. From entrepreneur to IT executive to special education teacher, Chris has made her mark and serves as an inspiration for many. Vanessa DiMauro, CEO of Leadership Networks, Inc.
EMCOR Group, Inc. has engaged CJ Rhoads as a consultant on several occasions.  In the last project, decisions had to be made as to whether to upgrade the legacy system prior to migration and conversion (or after).  The recommendations that CJ made probably saved EMCOR over $200,000 due to her finding that we did not, in fact, need to move off the legacy system (regardless of what the vendor was telling us). Peter Baker, former VP of EMCOR Group, a Fortune 500 construction management company.
Her command of a variety of areas makes her uniquely qualified to tackle difficult challenges.  She is more proficient than specialists in so many areas - including (but not limited to) leadership, technology decision-making, people management, educational approaches, business strategy, architectural design, project prioritization, and forecasting. She provides the kind of insight which you would normally find in a world renowned consultant, but she is much more responsive and closer to home.  Jack Bradt, former CEO of SI Handling, Inc.
CommerceLinks.Net                                                                    8/00– 3/01
Chief Operations & Technology Officer
Recruited to serve as CTO to CommerceLinks.Net - a startup company that developed a new technology for Live Video Customer Service.  In November Rhoads was promoted to COO as well.   With the exception of sales and marketing, fully responsible for all aspects of the company.  Under her direction, the company accomplished quite a bit:
· completed a competitive analysis
· developed and published a business plan
· developed business requirements Customer Collaboration Platform (CCP)
· led team in assessing technical requirements for CCP
· developed business requirements for Video Communication Network
· wrote patents on the Live Video Customer Service technologies
· established operational processes for proposing, closing, and billing customers
Millstar Corporation                                                                  2/00– 8/00
Chief Technology Officer
Millstar was a Business to Business E‑commerce software development company that specialized in medium to large manufacturers and distributors of equipment and supplies. Rhoads was brought in to stabilize/build a technology team, establish controls, and implement a new direction for the company.
As part of the senior management team,  introduced a new business model - publishing software.  Lead by Rhoads, the team developed an easy-to-implement-fully-featured e‑commerce software with the ability to print personalized catalog of items in full color.  The change improved gross margin and increased employee motivation. Among the successes:
· Established "startup" vision & culture to attract employees.
· Stabilized development team.
· Increased retention rate from 40% to 91%.
· Increased employee satisfaction.  95% employees identified "very satisfied with job" in a survey compared to less than 20% (prior to my joining).
· Identified missing skills and successfully hired to obtain key skills.
· Increased accountability in all areas, leading to increased productivity.
· Applied job costing analysis to customer accounts.
· Increased potential gross profit margins from 25% to 63%.
· Refocused sales and marketing on more profitable accounts.
The focus of the development team turned to re-usable components, repeatable processes, and an SEI level 5 (Optimizing) of the Capability Maturity Model. 
First USA/Bank One/JP Morgan/Chase                                  5/98 – 2/00
Vice President
One of the world's largest credit card issuers ($63 billion in managed loans in 1999).  Recruited to lead Project Management Initiatives.  Responsible for all major infrastructure projects including Y2K, Data Warehouse, MVS Conversion, Oracle Conversion, Data Center Relocation, Firewall Architecture and Backup Architecture. On time/on budget projects jumped from one (out of 102) to 85 (out of 130) by September 1998.
In 11/98 promoted to lead the global strategic initiatives in Information Services Operations. Recognized issues immediately with work management & customer service, and implemented actions to improve.  Compliancy rate went from 64% to 81%, and early fulfillment rate went from 59% to 83%.
In 3/99 promoted to lead initiatives in company-wide Program Office.  Implemented many projects to increase efficiency and increase productivity.  Spearheaded Root Cause Analysis program.  Identified top recurring issues,  including
· Internet Stability and Capacity
· Release Testing
· Network Proactivity
· Server Ownership, Maintenance & Build
· Problem Ticket Diagnosis
Defined success criteria, and empowered five multidisciplinary teams to resolve. Fully responsible for program implementation involving over 200 people.  Also initiated Time Tracking project to enable managers to effectively guide resources.
MBNA/Bank of America                                                             1/96– 5/98
Vice President-Strategy and Long Range Planning, Resource Allocation Division)
MBNA was also one of the world's largest credit card issuers ($71 billion in managed loans), and a pioneer in affinity marketing.  Served as the internal consultant to executive management on all enterprise-wide projects including Capital Budgeting, Expense Budgeting, People and Resource planning, Y2K, Enterprise Network & Systems Management, Call Center Workstation Implementation, & NT Enterprise Upgrade.  Translated technical descriptions into more easily understood terms for financial & business executives.  Coached teams seeking funding on doing financial projections and presentations.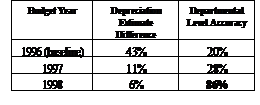 Also recognized issues with $600 million capital budget procedures.  Streamlined approval and forecasting process through teamwork and technology.  Designed and implemented new process for tracking capital and project budgets.  Improvements included elimination of reconciliation issues, time reduction for major expenditures from 18 days to less than 2 days, and from 41 days to 2 days for minor projects.  Also increased accuracy (see chart).
Chosen by senior management to lead a team of eighty people to design & develop process and system to meet the drastically changing planning needs.  Fully responsible for all aspects including developing the business requirements and choosing the software.
Hi-TECH Connections, Inc.                                                     6/86 – 1/96
Managing Director/President Hi-TECH Educational Services
Hi-TECH Connections purchased the company Rhoads built (CES) in 1993.  Rhoads became one of four key executives in parent company and grew from 30 employees and sales of $13 million to 62 employees and $50 million in sales. Responsibilities included:
· P & L accountability for consulting & training of Enterprise Network Management (ENM) services to Fortune 100 companies.
· Internal computer systems of Reading main office, two training rooms & three branch offices (Pittsburgh, Washington, New York).
· Purchasing (including vendor relationships, shipping, warehouse, and inventory control).
· CAD  & networking documentation staff.
· Supporting services for field engineers.
Initiated major initiatives to improve internal processes. Spearheaded integration of the Internet into vendor processes.  Oversaw major upgrade to finance and inventory control software.  Streamlined warranty processing. Created a process for software shipments.  Evaluated and installed a company-wide sales contact database system.  Inaugurated a time and expense tracking system.
Special challenges: increase margin on consulting and training, navigate the transition from product distribution to a services focus, increase speed to customer, and decrease slow moving inventory.
 Results:
· Net margins for consulting and training increased to 47%
· Services Income increased from 3% to 15% of revenues
· Fill rates increased to 86%
· "Dead" inventory cut by 73%
Computer Educational Services - Founder
Started CES after many attempts at finding high quality computer training as a teacher.  Blossomed into successful full service technology training and consulting firm with five employees and two full-time training facilities. Expanded business each year with top two years showing 66% and 75% growth.
· Developed and conducted courses in more than 90 software programs.
· Authored manuals in over 75 computer-related topics. 
· Developed and documented a research-based method for microcomputer applications training; the OPIRTSM Method,
· Empowered instructors to use OPIRTSM Method and provide high quality training. 
· Using database and spreadsheet programs, built many sophisticated small business systems, including every conceivable aspect of accounting, cash flow, and profitability. 
· Specialty: integrating Executive Information Systems with legacy technology.
Approached by Hi-TECH in 1991 for joint ventures.  Enabled the CES team to quickly master physical, data link, & network layers (first 3 layers of OSI model)  and come up to speed on Enterprise Network Management Consulting.  Successfully managed the sale and merger into the parent company.  Extremely smooth merger, with multiples of return on original investment for founders.
PROFESSIONAL AFFILIATIONS:
Northeastern Berks Chamber of Commerce. Active member, and involved in the education committee for SIFE, a student club at Kutztown University.
Greater Reading Chamber of Commerce. Member since 1986. Formerly served on Technology Committee.
National Association of Corporate Directors.  Active member. A professional organization for directors of both for-profit and non-profit boards of directors.
Association of Pennsylvania University Business and Economics Faculty. Active  member. A professional organization that holds academic conferences and sponsors a peer-reviewed journal for state universities.
Academy of Business Research - Previous member. An international society of scholars and practitioners who exchange ideas and collaborate in a conference setting.
American Academy of Business Disciplines. Previous member. An academic research and professional organization focusing on interrelated business disciplines in the Unites States.
OMICS Publishing Group - Active on the Editorial Board of the Journal of Pain & Relief, which deals with the research study of physiological and pathological pain integrated with molecular biology, genomics, proteomics, modern electrophysiology and neurobiology. The journal covers information regarding types of distressing symptoms during treatment and healing.
International Academy of Business Disciplines. Previous member and paper Reviewer. An academic research and professional organization focusing on interrelated business disciplines around the world.
Academy of Management.  An academic and practitioner organization for professionals in management.  Previously member of three divisions: Entrepreneurship, Management Consultants, and Spirituality. Also active in Technology and Innovation division and Research division. Paper reviewer.
Society for Information Management.  Previous member. An organization for senior Information Services professionals. Served on the Communications Committee and the Collaboration Task Force. Member from 1996 to 2011.
American Accounting Association. An academic and practitioner organization for accounting professionals. Member of the Information Technology division.
Decision Sciences Institute. Previous member. An academic research and professional organization focusing on decision making in the business environment.
National Business and Economics Society. Previous member. An academic research and professional organization focusing on business and economic topics.
Women In Technology International. Previous member. An organization of technology professionals. Profiled in June 1999 during Women in Science & Technology month.  One of founders of Mid-Atlantic Chapter serving Pennsylvania, Delaware, Maryland, and New Jersey.
Chief Officer (an exclusive on-line community of CEOs, CIOs, and COOs).  Previous member. Served on Advisory Board of Directors 2002 to 2007. 
Executive Suite (an exclusive on-line community of CIOs) Served on Advisory Board of Directors from 2000 to 2002. Organization no loner exists.
Cambridge Information Network (an exclusive on-line community of CIOs). Previous member. Served on the Advisory Board of Directors from 1998 - 2000. Organization no longer exists.
Healthcare & Integrative Practices Related:
National Qigong Association, a professional organization for Tai Chi and Qigong practitioners.  Currently Chair of the Research and Education Committee.  Member since 2009.
Science and Spirituality Society an organization dedicated to bring science together with spirituality.  Took an on-line course in Quantum Biology, and am conference director for the 2013 Conference on Quantum Biology and Well Being. Also involved in related Quantum Biology And Well-Being Society  - active member of the organizing committee of the annual Quantum Biology and Well Being Conference and served as the Academic Presentations Director for the peer-reviewed conference proceedings in 2012-2013.
Canadian Taijiquan Federation. Member since 2000. Certified as Professional Taijiquan Instructor Level II.
PREVIOUS COMMUNITY SUPPORT
Kutztown University Foundation.  Served as a Business and Industry volunteer soliciting sponsorships and scholarships from local businesses for KU Foundation for five years.  Currently working in conjunction with them, integrating SIFE activities into the B&I campaign.
Special Olympics – served as volunteer both in Pennsylvania and Delaware for over thirty years.  In PA developed and managed database for several years in early 90's as well as volunteering in track and field.  In DE coached Swimming and Golfing.
Interfaith Group – served as liaison and leader among Berks County churches involved in a group dedicated to education about different faiths and coordinating efforts to help the needy in downtown Reading. 
Olivet Boys and Girls Club/Police Athletic League of Greater Reading– serving underprivileged youth and families in downtown Reading.  Contribute as a volunteer in various events and programs, and organized the Pacem In Vita program in 2007.
HOST mentor (Helping One Student To Succeed)– In Delaware involved for four years in a program to mentor a student at risk for dropping out.